[ad_1]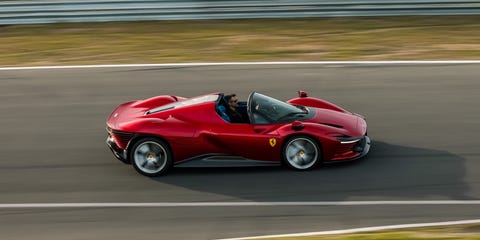 Ferrari
The Ferrari Daytona SP3 not only takes its design cues from the iconic endurance racers of the 1960s, it also features throwback elements such as a naturally aspirated V-12 engine and hydraulically assisted steering.
Read the full review
1 of 38
The mid-engine Ferrari Daytona SP3 is derived from the LaFerrari but has unique bodywork and structural changes underneath.
2 of 38
One element specific to the Daytona SP3 is the wraparound windshield, a feature found also in the racers that inspired this car.
3 of 38
Unlike most modern Ferraris, the Daytona SP3 does without wings or active aero elements. Instead, bulging air intakes and flowing shapes manage airflow around the body.
4 of 38
At the rear, horizontal body-color bars mask a full-width vent that extracts heat from the engine.
5 of 38
The butterfly doors look dramatic, but graceful ingress and egress is not easy.
6 of 38
Inside, the seat and seatback are fixed in one of three positions, and the pedal box is adjustable.
7 of 38
The mid-mounted 6.5-liter V-12 is naturally aspirated and revs to 9500 rpm.
8 of 38
Output from the V-12 is 829 horsepower, just eclipsing that of the 812 Competizione.
9 of 38
Ferrari is making just 599 examples of the Daytona SP3.
10 of 38
Daytona SP3 buyers are among the brand's most loyal clients and have been invited to purchase the car by Ferrari.
Advertisement – Continue Reading Below
This content is created and maintained by a third party, and imported onto this page to help users provide their email addresses. You may be able to find more information about this and similar content at piano.io
[ad_2]

Source link